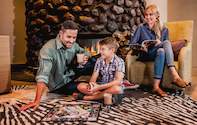 Family fun at Sabi River Sun.
These family-friendly hotels in Mpumalanga offer a family safari holiday in Kruger National Park. Children and parents can also enjoy tranquil surroundings, go on nature trails and swim in the resort pool.
Sabi River Sun Hotel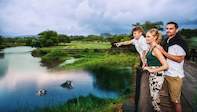 Sabi River Sun Hotel on the banks of the Sabi River near Kruger National Park is a great choice for an adventurous family safari holiday. There is a wide variety of leisure activities for the whole family, including 5 swimming pools, nature trails on foot or bike and an 18-hole golf course.